As you've no doubt noticed, world markets experienced particularly high volatility during the first week of March. In fact, the last time we observed such movement was August 2011 during the European sovereign debt crisis (as measured by the CBOE's VIX Index).  Despite the massive up and down swings, the S&P 500 ended the week at almost the same value it started.
The volatility was primarily a product of the ongoing COVID-19 economic evaluation. Many markets, sectors and industries are in correction territory (10% pull back from recent highs). The correction has signs of emotional trading rather than a reflection changing fundamentals. Payroll Employment, Unemployment rate, ISM Manufacturing PMI and the Philadelphia Fed's Business Conditions Index were all released within the past week or so and reflect a positive economic momentum. This is not to say the future will continue this path, just that the fundamentals appear sounder than what the market is suggesting.
Prior to the COVID-19 correction, U.S. stock valuations could be considered elevated by historic standards. Increased valuations tend to make stocks more sensitive to extemporaneous shocks and worry. In the midst of the volatility, the Federal Reserve (The Fed) boldly and aggressively reduced rates by 0.50%. This is an unprecedented move. The Fed's message is clear. The Fed will take the necessary actions to ensure liquidity as governments and business come to grips with the logistics of containing the virus.
The equity markets do experience declines periodically. This is a normal occurrence. The table to the right shows a negative 10%-20% decline has occurred 29 times since 1945 and lasts four months, on average.
Danial Kahneman won the Nobel Price in 2002 for his work in behavioral economics. The key finding is that people often make irrational financial decisions. Emotional reactions to the events are normal. Market declines can elicit anxiety and stress, but these periodic fluctuations are the entire reason for creating and maintaining an investment strategy.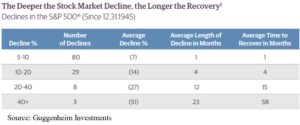 Your portfolio is designed with your goals, objectives and risk tolerances in mind while incorporating market behavior (or misbehavior). Last week's volatility is precisely the time to stick with the strategic plan we developed during calmer times. Should you feel the need to discuss your portfolio or your plan, please don't hesitate to contact us.
Source of data: CBOE.com, Capital Group, Guggenheim Investments, Invesco, FS Investments, Delaware Investments, BLS.gov, Institute of Supply Management CRN-2985376-030920