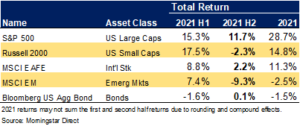 What a year! 2021 ended with some incredible investment returns, so says the media. The media tends to present information that is familiar to their readers. Readers are most familiar with the Dow Jones Industrial Average and the S&P 500 due to their longevity as well as the media coverage itself. Both are proxies for U.S. large cap stocks, and no doubt the S&P 500 clocked a great 2021. In fact, one would need to look back to the late 1990s for a similar 3-year return1. However, U.S. large cap stocks are not the only asset class within portfolios. Let's set the record straight.
2021 was a unique year for the S&P 500 for a number of reasons.
− The S&P 500 has never seen such concentration as witnessed in 2021.
− The S&P 500's 2021 annual return was in the top quintile for calendar years since 1930.
− During 2021, the S&P 500 did not experience a pullback of more than 5%, rather atypical.
− The three-year return ending 2021 was the best three-year return since 1997-1999.
− The three-year return ending 2021 was the seventh best three-year period since 1930.
However, the S&P 500 is a very small subset of potential investments, about 500 stocks with the Dow Jones Industrial Average only 30 stocks. Of the 9804 U.S. stocks, only 708 qualify as a large cap stock1. This doesn't include the thousands upon thousands of non-U.S. companies. Simply referencing the S&P 500 excludes that vast bulk of mid and small sized stocks, international stocks, emerging market stocks, preferred stocks, government bonds, corporate bonds, low-quality bonds, and non-traditional markets to name a few.
A review of the more common asset classes (small companies, international stocks, emerging markets, and general bonds, see table) offers a better perspective of 2021. The first observation is that most asset classes returned significantly less than the myopic S&P 500. Some classes, such as emerging markets and bonds, registered a negative return for the full calendar year.
The second observation was the performance divergence between the first and second halves of 2021. The first half of the year was mostly accompanied by strong growth across all equity classes. Other than the S&P 500, the returns of other equity classes fizzled during the second half of the year. Bonds never got a footing on the year due to interest rate movements, eking out a slight negative return.
Recent media celebrations give the impression that all stocks experienced stellar 2021 performance. The media rarely identifies what the S&P 500 represents, leaving readers ill-informed. A closer look across asset classes shows a more challenging investment environment, especially in the second half of the year. Being mindful of the full record helps us be better investors.
CRN-4169760-011322
1Morningstar 2JPMorgan Asset Management
The S&P 500 Index is the Standard & Poor's Composite Index of 500 stocks and a widely recognized, unmanaged index of common stock prices. You cannot invest directly in an index.
Opinions expressed are those of Heritage Financial and are not necessarily those of Lincoln Financial Advisors. Expressions of opinion are as of this date and are subject to change without notice. This information is not intended as a solicitation or an offer to buy or sell any security referred to herein. Investments mentioned may not be suitable for all investors.
Past performance does not guarantee future results. Investing involves risk, and investors may incur a profit or loss. Forward looking statements may be subject to certain risks and uncertainties. Actual results, performance, or achievements may differ materially from those expressed or implied.