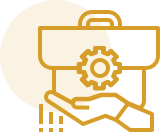 AN investment strategy constructed for you.
The success of your portfolio is tied to the investment plan that directs it. We do not believe in cookie-cutter, one-size-fits-all strategies.
Our team of knowledgeable, licensed, and experienced advisors approach the marketplace with a fresh perspective to provide you with opportunities and solutions that are innovative, flexible, risk-managed, objective, and as effective as possible.
Find Out Where You're Going.
Provide discipline to your investment decision-making through a methodical process.
Align investment solutions with your long-term goals.
Offer multiple platforms of traditional asset classes, as well as innovative investment vehicles, such as hedge funds, managed futures, private equity, and real estate.
Consult when additional services may be needed, such as tax, estate, and risk management strategies.
Represent you in your best interest in a vast marketplace of products, investments, and strategies.
A well-designed portfolio addresses your specific objectives, as well as capital market research and factors related to due diligence.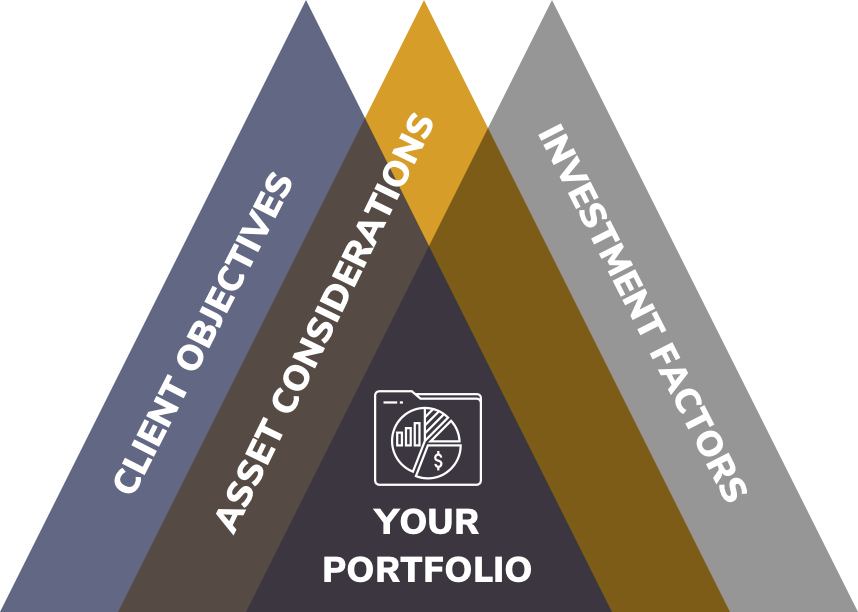 Client Objectives
• Objective
• Risk Tolerance
• Liquidity
• Time Horizon
• Constraints / Taxes
• Unique Circumstances

Asset Considerations
• Cash
• Bonds
• Stocks
• Alternative Investments

Investment Factors
• Performance
• Diversification
• Risk Characteristics
• Management
• Expenses
• Tax Characteristics
A confident financial future.
Schedule a short conversation with one of our advisors to discuss your needs and pursue your goals.
We are licensed in the following states. We are sorry if we are unable to offer you our services at this time.
Securities: Alabama, Alaska, Arizona, Arkansas, California, Colorado, Connecticut, Delaware, District of Columbia, Florida, Georgia, Hawaii, Idaho, Illinois, Indiana, Iowa, Kansas, Kentucky, Louisiana, Maine, Maryland, Massachusetts, Michigan, Minnesota, Missouri, Montana, Nebraska, Nevada, New Hampshire, New Jersey, New Mexico, New York, North Carolina, North Dakota, Ohio, Oklahoma, Oregon, Pennsylvania, Rhode Island, South Carolina, Tennessee, Texas, Utah, Virginia, Washington, West Virginia, Wisconsin, and Puerto Rico.
Insurance: Arizona, California, Colorado, District of Columbia, Delaware, Florida, Georgia, Illinois (IL), Indiana (IN), Iowa, Kentucky, Maine, Maryland, Massachusetts, New Jersey, New Mexico, New York, North Carolina, North Dakota, Ohio, Pennsylvania, South Carolina, Tennessee, Texas, Virginia, West Virginia, and Wisconsin.


Heritage Financial Consultants
307 International Circle
Suite 390
Hunt Valley, MD 21030
P: 410-785-0033  F: 410-785-0044
Unless otherwise identified, Associates on this website are registered representatives of Lincoln Financial Advisors Corp. Securities and investment advisory services offered through Lincoln Financial Advisors Corp., a broker/dealer and a registered investment advisor. Member SIPC. Insurance offered through Lincoln affiliates and other fine companies and state variations thereof. Lincoln Financial Group is the marketing name for Lincoln National Corporation and its affiliates. Firm disclosure information available at www.LFG.com.
*Associated persons of Lincoln Financial Advisors Corp. who hold a JD and/or CPA license do not offer tax or legal advice on behalf of the firm.
Heritage Financial Consultants is not an affiliate of Lincoln Financial Advisors.
Lincoln Financial Advisors and its representatives do not offer tax or legal advice.  Individuals should consult their tax or legal professionals regarding their specific circumstances. 
Not all registered representatives with our firm are able to offer advisory services.
See Lincoln Financial Advisors (LFA's) Form CRS Customer Relationship Summary, available here, for succinct information about the relationships and services LFA offers to retail investors, related fees and costs, specified conflicts of interest, standards of conduct, and disciplinary history, among other things. LFA's Forms ADV, Part 2A, which describe LFA's investment advisory services, Regulation Best Interest Disclosure Document, which describes LFA's broker-dealer services, and other client disclosure documents can be found here.
CRN-3032438-040720
Committed to your success.
© 2020 Heritage Financial Consultants, LLC