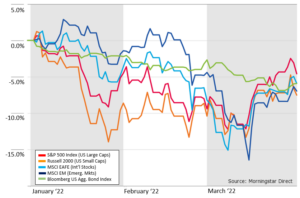 What a difference a year makes. It was just 12 months ago when people were preparing for a vaccine induced liberation. The ending of the 2021 winter brought warmer days, chirping birds and blooming flowers that were analogous to the ending COVID stupor. Smiles were accompanied with trips to restaurants, booking travel and visiting missed friends and family.
The 2022 winter is almost the opposite. The cold weather doesn't want to leave; just a few birds can be heard faintly in the distance (probably thinking of a return south); and blooms barely making their presence. The funk of the first quarter 2022 just doesn't want to leave.
The first quarter of 2022 may have been a quarter when everyone aged three years. The assault seems to come from all sides as Omicron bled over from the previous quarter, equity securities experienced a correction, fixed income markets suffered their worst quarterly returns in decades, inflation stepped to a higher plane, the Federal Reserve (Fed) tightened monetary policy, supply chain disruptions continued, energy prices soared, and Putin launched a war. Not even the great boxing legend Muhammad Ali could dodge that many punches.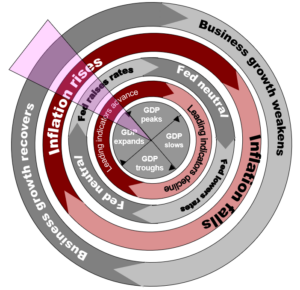 The economic clock experienced considerable advancement in a relatively short period. The U.S. and global economies have moved well beyond the early high growth stage and into a mature stage, making the natural impulse assuming the next sequential recessionary stage is imminent. However, the economic cycle and its segments do not follow a predetermined cadence. Investors should be mindful of the everchanging fundamentals. The economy maturing into recession was projected in the mid '90s as well as the mid-2010s, yet both periods experienced an economic slowdown followed by a renewed resurgence. Surmounting current identified economic obstacles, could generate renewed economic interest.
The quarter generated many leading headlines, the most unexpected was Russia's attack on Ukraine. Many were caught off guard as they believed an invasion would be averted. The incursion was accretive to the overall uncertainty sparking a market decline and a short-lived flight to quality, offering temporary relief to bond investors. Geopolitical conflicts are unpredictable in their duration with impact and involvement making Putin's war the biggest wild card. The best hopes are for a short and contained kerfuffle and avoidance of new actors into the theater which could spark a worldwide calamity.
The quarter did close on a positive note as volatility subsided with the equity markets moving higher as the world rallied around Ukraine while the Fed gave some clarity of its future activities.
INFLATION
Inflation ticked higher as the quarter progressed. The period's inflation catalysts are being debated and will likely be a product of a future PhD thesis. Elements of a temporary nature are supply chain disruptions, elevated housing prices, vehicles prices and base effects. Structurally, energy policy and higher demand for services without additional supply will add to systemic pressure. Labor constraints can add fodder to either side of the debate.
The Fed has shifted 100% of their attention towards fighting inflation. The Fed's current direction commenced in the first quarter and is expected to last into 2023. The Fed is caught between a rock and a hard place; as raising rates too quickly could spark economic woes and raising too slowly may not be able to sufficiently control inflation.
EQUITY MARKETS
Omicron's economic constraint at the onset of the first quarter transitioned to concerns of rising inflation, energy costs and Fed action. Additionally, the excessive notice provided by the Fed telecasting its intentions gave investors time to contemplate every newly released economic datum further elevating the quarter's volatility. This caused a rotation out of growth stocks and speculation into more traditional value investing with more stable business models and reliable cash flows. The sharp correction through mid-March was pared in the quarter's closing weeks.
International stocks initially fared better than U.S. equity markets with emerging markets up almost 2% by mid-February1 and developed markets down a fraction of U.S. markets. This was buoyed by a forecasted European reopening and more palatable valuations. European stocks took a turn after Putin established conflict on the doorstep of developed European economies.
FIXED INCOME MARKETS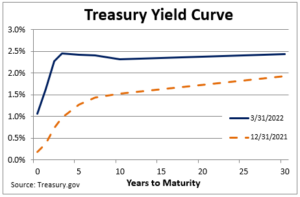 Yields rose steadily through the quarter with vaunted 10-Year Treasury yield approaching 2.5%. The yield curve ending the quarter in a contorted fashion. 10-Year Treasury yield manipulation should give investors pause concluding historic relationship legitimacy.
Fixed income investors were focused on actions being implemented by the Fed. The Fed concluding their bond buying (an effort to hold down longer dated bond yields) was completed in March. March also witnessed the Fed's first rate-hike cycle commencement since 2015. Speculation of the Fed's direction caused significant first quarter volatility with the bond market clocking in its worst quarter since the third quarter of 19801.
The first quarter 2022 witnessed many market rattling events, yet finished on a positive note. This suggests investors may have moved beyond the current turmoil and focused on better days ahead. The COVID period may be coming to a close as variants are becoming less harmful, and people have chosen to carry on and live with the variants that are yet to come. The outcome of Putin's war is the obvious wild card caveat.
Looking forward to warmer days ahead. As always, reach out if you want to talk about your portfolio or any other planning items.
1Morningstar The opinions expressed are those of Heritage Financial and not necessarily those of Lincoln Financial Advisors Corp. The S&P 500 index measures the performance of 500 stocks generally considered representative of the overall market. NASDAQ Index measures the performance of the 100 largest non-financial securities listed on The NASDAQ Stock Market. CRN-4665466-040822
Registered associates of Heritage Financial Consultants, LLC are registered representatives of Lincoln Financial Advisors. Securities and investment advisory services offered through Lincoln Financial Advisors Corp., a broker/dealer (Member SIPC) and registered investment advisor. Insurance offered through Lincoln affiliates and other fine companies. Heritage Financial Consultants is not an affiliate of Lincoln Financial Adviso