Heigh-ho, Heigh-ho… it's off to work we go! What's important to all of us is the ability and opportunity to earn a living. COVID took a large gash out of people's ability to earn a living, but that gash is quickly healing. At the end of the day, products can't be manufactured, and services can't be rendered without people getting back to work. Jobs and labor, therefore, are the ultimate goals of any economic system.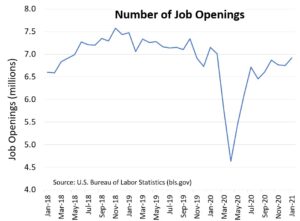 Monitoring labor markets are very important to understanding the structural health of our economy. Most data points or aspects indicate labor markets are healing very quickly. This can be seen in the number of job openings tracked by the U.S. Bureau of Labor Statistics (BLS), the Unemployment Rate and Unemployment Claims (i.e. unemployment assistance).
An even more sensitive measure is small business (businesses with less than 500 employees) hiring and job openings. Small businesses are a very good barometer of the U.S. domestic situation and outlook due to their local offerings and limited international reach. It is often ignored, but small business makes up 99.8% of all U.S. companies and 47.3% of the total U.S. employment.
According to a recent report form the National Federation of Independent Business (NFIB), business owners are expecting better business conditions over the next six months. Moreover, 56% of small businesses reported hiring or trying to hire in February. NFIB surveyed businesses cited preparation for a post-COVID lifestyle along with available stimulus spending dollars as near-term influences. An interesting finding was the lack of qualified applicants, mostly in the construction fields.
Likewise, the Fed's most recent comments echoed similar sentiments as front line business owners. The Fed's forecasts released this week, adjusted 2021 economic growth higher than previously forecast. Of particular note to investors is the Fed's willingness to keep interest rates very low until solid employment gains match forecasts.
All this good news is not to say we are out of the woods yet, but an improving 2021 seems to be in progress.
Expectation corroboration is good to see yet remaining vigilant is paramount. As always, I hope these Insights are helpful. Have a great weekend.
CRN-3500538-031921