Much focus is placed on the U.S. economy and U.S. markets. There are many reasons for this. In summary, the size of the U.S. economy and financial markets positions the U.S. into a leadership role influencing regional and country dynamics.
From a more practical standpoint, data about the U.S., its citizens and developments are widely available. For example, the Transportation Safety Administration (TSA) publishes TSA passenger throughput daily, made available to everyone through its website. For European or Asian data… get ready to hunt and peck.
Having said that, Europe has recently disclosed some very important data that offers insight into the future economic direction. Here are some recent headlines from Eurostat1 about May 2020.
"Production in construction up by 27.9% in euro area and 21.2% in EU"¹
"Industrial production up by 12.4% in euro area and 11.4% in EU"¹
"Volume of retail trade up by 17.8% in euro area"¹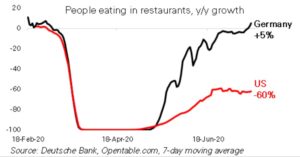 Even with the considerable European lag (rare with U.S. data), the headlines clearly indicate Europe is experiencing a similar turn around as the U.S. Europeans are getting back to work and shopping. In some ways, Europe is ahead of the U.S. For example, Germans are back in restaurants on par with a year ago.
The recovery is still fragile. To support and accelerate the European recovery, European Union (EU) leaders recently announced a $2 Trillion spending plan. The plan is financed through a first-ever common debt issuance. Not only does this indicate the European commitment to re-establish their economies, this also signals EU solidarity which seemed to be unraveling over the past decade.
European data are showing positive signs. Considerable governmental support indicates situational awareness. As uncertainty wanes and normalcy returns (or a new-normal is established), typical safe havens such as the U.S. dollar will likely become less attractive to investors… increasing the tailwind to non-U.S. investments.
As the post-COVID world evolves and market dynamics change, the importance of a well-diversified portfolio is more important today than any time in the past. Your portfolio has a healthy dose of international investments for diversification as well as to capture non-U.S. opportunities. Thank you for the trust you have placed in our team.
¹Source: https://ec.europa.eu/eurostat/news/news-releases
CRN-3174016-072320