Surveys are conducted on a bevy of topics all the time. The topics range from politics to consumer preferences to investing. DataTrek Research recently published some rather odd conclusions from a recent investor survey. The main question centered around performance of the S&P 500 for the remainder of the year. The question was, "Where do you think the S&P 500 will end the year?"
Normally, there is overwhelming consensus for a particular direction (not that the predicted direction bears fruit). This would make sense as investors consume the same economic data, monitor the same market behavior and assess the same risks.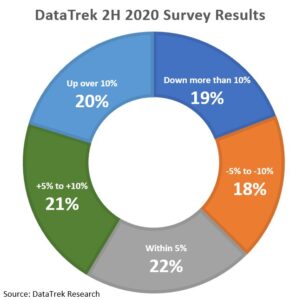 The recent survey will go down in history. DataTrek has never seen survey results that are so non-committal. Among the five potential responses to the above question, from very bearish to very bullish, the results are almost equally split among the available answers. Even the non-committal direction offers insight into what investors are thinking. And the answer is… investors are either perplexed or taking a pause to let the dust settle. Either way, we're in a conviction-less sideways market.
Economic data is mostly positive. So far, the majority of company earnings are beating estimates. Government (The Federal Reserve and Congress) are very accommodative. International markets are exhibiting similar trends.
However, investors remain wary of the COVID-19 resurgence, the ultimate impact of social unrest and China-US tensions. One area that is being evaluated that the media is not covering is humanity coexisting with COVID-19. What will the future look like and how will consumer habits change? Only time will tell.
The stock market is said to be a weighing machine, always weighing options, scenarios and gauging risks. At this point, the potential risks seem to have cancelled out the mostly robust economic data leading to a conviction-less market. In the near-term, a sideways market with volatility can be expected. This adds more fodder to a well-diversified portfolio.
http://datatrekresearch.com/datatrek-2h-2020-survey-results-no-conviction-market/
CRN-3184309-073020