TikTok videos, Facebook posts and Instagram pics seem to be more important basic financial literacy. It is little known that April is National Financial Capability month. Recognized in 2005, National Financial Capability month is an effort to broaden financial understanding. Unfortunately, we're failing!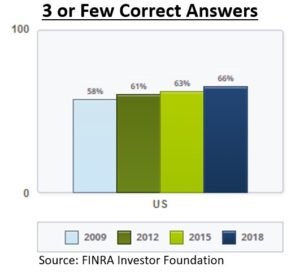 Financial Industry Regulatory Authority (FINRA) established the FINRA Investor Education Foundation to assist with the broader financial literacy goals. Every three years, FINRA tabulates the answers of a five-question survey to measure national progress. The five questions cover every day financial concepts such as compound interest, inflation, principles relating to risk and diversification, the relationship between bond prices and interest rates, and the total interest paid on a mortgage. The most recent results, from 2018, showed that 66% could not answer more than 3 questions correctly1. In other words, 66% could not achieve a passing grade of a "D." What's worse is financial literacy is moving the wrong direction!
Even though the survey focuses on every-day questions, accelerating investment options compound the problem. Staying apprised of the evolving environment, new investments and different investment vehicles can be a daunting task. It's not hard to become overwhelmed with the typhoon of choices or be overcome by analysis paralysis.
We are committed to making sure your part of the 34%. We are here to help you stay in the financially literate group as well as help others prop up their comprehension. We've found that financial illiteracy often stems from the lack of professional access, not knowing where to find answers or the apprehension to pose a question. We are here to answer any questions you, your family or your friends have.
Below is a short list of links to you may find helpful to broaden your own financial awareness.
How to Spot the Red Flags of Fraud (from saveandinvest.org, sponsored by FINRA):
https://www.saveandinvest.org/protect-your-money-spot-and-avoid-fraud/how-spot-red-flags-fraud
Thinking About Investing the Latest Hot Stock? (from investor.gov, sponsored by the SEC):
https://www.investor.gov/introduction-investing/general-resources/news-alerts/alerts-bulletins/investor-alerts/investor-62
SPACs – What You Need to Know (from investor.gov, sponsored by the SEC):
https://www.investor.gov/introduction-investing/general-resources/news-alerts/alerts-bulletins/investor-bulletins/what-you
 CRN-3548130-041421