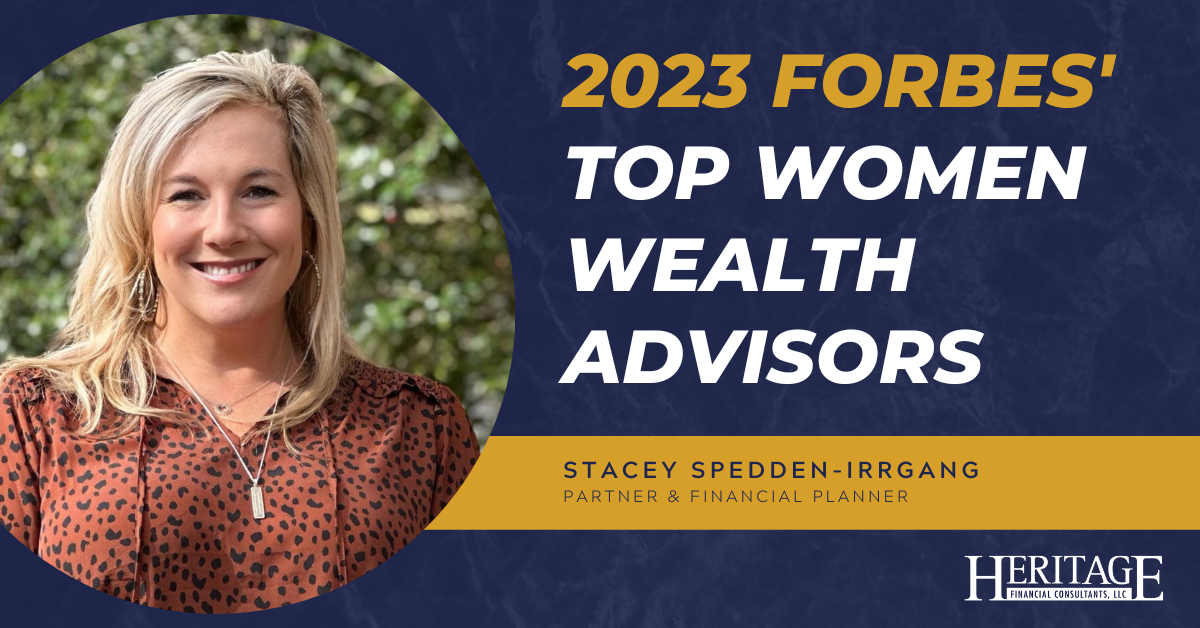 Heritage would like to congratulate Partner Stacey Spedden-Irrgang on being named one of America's Top Women Wealth Advisors by Forbes. We are so proud of Stacey and all her accomplishments. The seventh annual ranking of Forbes/SHOOK Top Women Wealth Advisors features 1,697 women collectively managing assets of nearly $2.3 trillion. Stacey ranked #20 in Maryland.
Stacey focuses on retirement planning as well as health coverage for retirees, life insurance, and disability income insurance. She has been a financial planner since 1993. Stacey's mission is to focus on helping her clients make complex situations simple to understand while being immersed in a warm, friendly, family environment. Her goal is to provide her clients with the confidence needed to navigate the roads of their financial future.
Read more about the honor here:
https://www.forbes.com/lists/top-women-advisors/?sh=42e8a1082a8f
The Forbes America's Top Women Wealth Advisors Best-In-State 2023, developed by Shook Research, is based on the period from 02/04/22 to 09/30/22 and was released on 02/02/2023. 38,314 nominations were received and approximately 1,700 women won. The Forbes ranking is based on an algorithm of qualitative data, learned through surveys and interviews conducted by telephone, in-person and virtually to evaluate best practices, such as service models, investing models and compliance records as well as quantitative data, such as revenue trends and assets under management. All advisors have a minimum of seven years' experience. Portfolio performance is not a criterion due to varying client objectives and lack of audited data. Stacey was nominated for the award by her firm. Neither the advisor nor their parent firm paid a fee to Forbes or SHOOK for the nomination, receipt, or promotion of the award. The award was independently granted and membership in an organization was not required. Working with a Forbes Best in State Wealth Advisor is no guarantee of investment success.
For more information about the selection criteria, click here: https://www.forbes.com/sites/rjshook/2023/02/02/methodology-americas-top-women-wealth-advisors-2023/
CRN-5515533-031523