Recessions are typically a result of excesses. Economic excesses take many forms; such as superfluous consumption, overproduction or asset bubbles. The realization and contraction of those excesses is what causes reduced economic activity, which is referred to as a recession.
The current circumstances are atypical. Economic activity was intentionally stopped. Prior to the intentional election, economic activity was strengthening with no egregious excesses on the horizon. Obviously, interrupting economic activity was for good reason.
The economic data to be released in the coming weeks will be unpleasant and will verify what is already known. The financial markets have accepted the current situation and attempting to figure out when and how life will resemble some modicum of normalcy. The current volatility (more muted than weeks past) is the market taking inventory of "knowns" and "unknowns."
The "knowns" include:
Efforts to bend the COVID-19 curve downward are working,
The financial sector is healthy with plenty of liquidity (cause of the '08-'09 Credit Crisis),
Individuals didn't indulge in excessive consumption with minimal debt levels not seen in decades,
Pent up demand is being created, even in such mundane chores as haircuts.
The "unknowns" include:
When the apex of the infection will be reached,
How long social distancing and business shuttering will last,
When businesses can reopen, or how long it will take to ramp up to full operation.
Markets are forward looking and attempting to find an answer to the "unknowns." On average the equity markets bottom five months before the economy does. To be sure, it is not clear that the market bottom has yet passed. April will likely see challenging economic and earnings data. As virus-related data ultimately improves, the path to recovery may become clearer.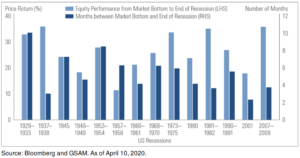 Successful long-term wealth management considers diversified portfolios, forward awareness, disciplined investment efforts (such as rebalancing or tax loss harvesting) and patience. Thank you for the trust you have placed in us. Stay safe and healthy.
CRN-3043736-041520