The recent slew of economic data offers a generally positive, yet mixed, picture of current economic circumstances. Mostly, this can be expected as U.S. and global economic engines attempt a restart. Indicators over the past few weeks have suggested that the worst of the downturn may be behind us. Industrial activity is resuming, businesses are reopening, people are returning to work and consumers are spending money.
There is an open discussion about the appearance of the economic recovery. Will it be a V, a U, a W or something else? Only time will tell. Initial signs of a V (a quick snap-back) seem to be the current path. However, this could be due to an economic shot of adrenalin due to increased lockdown savings and the desire to alleviate cabin fever.
Consumers are an important segment to monitor as consumer spending accounts for approximately 70% of the U.S. economy. So, the heath of the American consumer is paramount. Indications of normalcy desires can be seen anecdotally as well as in the economic data. Beyond the news reports of individuals indulging in recreational activities, shopping, visiting restaurants/bars (subject to limited capacity) and getting haircuts; the recent national sales data confirms consumers are spending money. June 17th witnessed record setting retail sales growth!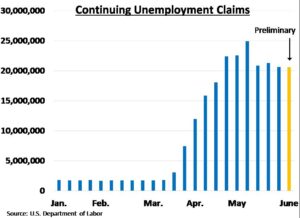 The U.S. Bureau of Labor Statistics reported an incredible net gain of 2.5 million jobs in May. This differs from an expected loss of 7.5 million jobs. That's a 10 million difference!
At the same time, people requesting unemployment assistance remains extremely high. Monitoring weekly unemployment claims offer important insight into the economic re-commencement progress. We are not out of the woods yet.
Financial markets (primarily, the U.S. stock market) have experienced a fantastic rebound from March lows.  It is important not to become complacent. The stock market tends to move in fits and starts. A run-up is often followed by a consolidation. A consolidation can be experienced as a plateau or volatility. Over the past week, volatility seems to be the chosen path. Make no mistake, market consolidation is normal and healthy. Much like a sprinter, the sprinter must stop to catch his breath.
CRN-3132048-061820